Visiting Us
Gem Electromechanicals Pvt. Ltd. has its Headquarters and Production units at Vishwakarma Industrial Area, Jaipur (INDIA). This page provides information for our visitors about the city of Jaipur, how to get there, where to stay and sights in Jaipur that are worth seeing. Please do not hesitate to contact us for any additional information.
Jaipur
Jaipur also popularly known as the Pink City, is the capital of Rajasthan state, India. Founded in 1727 by Maharaja Sawai Jai Singh, the ruler of Amber, the city today has a population of more than 5 million residents. Built of pink stucco in imitation of sandstone, the city is considered by many urbanists to be one of the best planned cities.
Modern infrastructural facilities are fast developing, and in many cases surpass those of larger cities like Delhi. The city is expanding very quickly and has become a hot spot for development in Rajasthan.
Getting There
Climate:
Max.
Min.
Clothing:
Season
Type of Clothing
Summer Avg:
42.50°C
36.50°C
Summer:
Cotton or Light tropical
Winter Avg:
27.50°C
15.50°C
Winter:
Light/Medium Woollens
Average Rainfall:
32.50 cms
Best Season:
October to March
By Air
Jaipur's Airport (IATA: JAI, ICAO: VIJP) is situated in its suburb of Sanganer and offers direct services to most Domestic and some International Destinations. Recently built at a new premises, Jaipur airport offers all modern and latest aminities in a swanky new building. Jaipur also has well connected domestic air links by many domestic airlines with Delhi, Hyderabad, Kolkata, Goa, Chennai, Ahmedabad, Bangalore, Mumbai, etc. Some links to some domestic multi-operator airline booking websites:
By Train
Jaipur is very well connected by rail network of the Indian Railways with all major cities and towns in India. Jaipur has direct trains on the broad gauge network to cities like Agra, Delhi, Mumbai, Kolkata, Hyderabad, Chennai, Bangalore, etc. across the country. Links to Railway booking sites: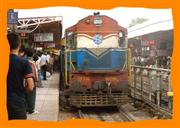 By Bus
There is an excellent bus service between Jaipur to Delhi by Rajasthan State Road Transport Corporation with AC Super-deluxe Volvo buses approximately every hour both sides. From Delhi you can board the bus from Bikaner House on Pandara Road next to India Gate. You can also book tickets up to 6 days in advance. These buses typically take 6 hours. If you plan to leave from Delhi airport, you can get off the bus at Dhaula Kuan stop and get a taxi from there, no need to enter congested Delhi. Links to Roadways sites:
By Car
This is the most popular way of reaching from Delhi. The journey by car from Delhi to Jaipur takes less than 5hrs. National Highway no. 8 connects Delhi to Jaipur. One plus point for those flying in/out of Delhi is that the Delhi airport is close to the highway, so you could reach/exit the airport without entering the city. Links to travel directions from Delhi:
Staying Here
Staying in Jaipur is a particularly enjoyable experience. One can can choose from Guest houses, Budget Hotels and 3-star hotels to 5-star hotels. Another great way to stay while in Jaipur is to book yourself into one of the Heritage Hotels. Once personal residences of royalties, these have now been converted to hotels, giving guests a very regal experience!
Hawa Mahal - The ornamental facade of this "Palace of Winds" is a prominent landmark in Jaipur. Their five-storey structures of sandstone plastered pink encrusted with fine trelliswork and elaborate balconies. The palace has 953 niches and windows. Built in 1799 by Pratap Singh, the Mahal was a royal grandstand for the palace women.
Ram Niwas Bagh -Built as a famine relief project by Sawai Ram Singh II in 1868 AD, it houses a well-kept spacious garden with a zoo, an aviary, a greenhouse, a herbarium, a museum and a sport ground.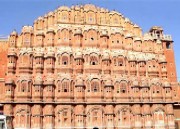 City Palace - A delightful blend of Mughal and traditional Rajasthani architecture, the City Palace sprawls over one-seventh of the area in the walled city. It houses the Chandra Mahal, Shri Govind Dev Temple and the City Palace Museum.
Sisodia Rani ka Bagh - Sawai Jai Singh built it in 1728. The garden is laid in Mughal style and it depicts the legends of Radha and Krishna. The garden is located 8 km from Jaipur - Agra road .It consists of tiered multi-level gardens with fountains, watercourses and painted pavilions. Sawai Jai Singh built it for his Sisodia Queen from Udaipur. The palace house has several galleries, pavilions and beautiful murals depicting scenes from the life of lord Krishna.
Jantar Mantar - This is the largest and the best preserved of the five observatories built by Jai Singh II in different parts of the country. This observatory consisting of outsized astronomical instruments is still in use.
Gaitore - It is the final resting place of the Maharajas of Jaipur and is located just off the Jaipur - Amber Road. Situated in a narrow valley the cenotaphs of the former Maharajas are chhatris made in typical Rajput architecture. The chhatri of Sawai Jai Singh II is of special mention for its carvings that exaggerate it.
Chokhi Dhani - an ethnic village resort with a blend of rustic environment and modern amenities making it an important destination in Pink City. Chokhi Dhani gives the impression of a typical Rajasthani village and is perfect for both the business person or leisure traveller visiting the area.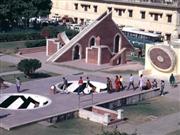 Amber Fort Palace - Amber is the classic romantic Rajasthani fort palace. Its construction was started by Man Singh I in 1592, and completed by his descendent Jai Singh I. Its forbidding exterior belies an inner paradise where a beautiful fusion of Mughal and Hindu styles finds it's ultimate expression.
Galtaji - The vast complex of Galta Ji has numerous temples, pavilions, natural springs and holy 'kunds'. Set amidst the beautiful landscape, Galtaji is famous for its natural water springs. The temple was built by Diwan Rao Kriparam, a courtier of Sawai Jai Singh II, in the 18th Century. Built in pink sandstone, the outstanding structure of the Temple looks more like a mansion or Haveli.
Nahargarh Fort - Perched atop a pricturesque hill, the Nahargarh Fort offers a breathtaking view of the city below. Initially built by Sawai Jain Singh in 1734 A.D. It was enlarged and given its present shape by Sawai Madho Singh in 1885 A.D. Decorative motifs in some of the rooms are delightful. From the windows of the nine identical suites, one gets a magnificent view of the city, complete witht he geometrical layout. From Amer there is a road to Nahargarh, which passes through the hills.
Vidyadhar Gardens - Located near the Sisodia Gardens,it is a beautiful vineyard, which unfolds itself in the valley. It is named after Vidyadhar Bhatacharjee the architect of Jaipur.
Jal Mahal - Also known as Water Palace, Built in the mid 18th century by Madho Singh I The Palace was developed as a pleasure spot and was used for the royal duck shooting parties. A causeway leads to Jal Mahal Palace situated in the middle of Man Sagar Lake, opposite the cenotaphs.
Govind Dev Ji Temple - A vital part of the city Palace complex, this Krishna temple has been highly preserved by the erstwhile royal family. Sawai Jai Singh installed the image of GOVIND DEV JI (an incarnation of lord Krishna) after it was brought from Vrindavan.
Jaigarh Fort - The western skyline is dominated by the extensive walls, watch towers and gatewasys of the Jaigarh Fort. It is one of the few military structures of medieval India preserved almost intact, containing palaces, agrdens open and covered reservoirs, a granary, an armoury, a well-planned cannon foundry, several temples, a tall tower and a giant mounted acnnon-the Jain Ban, the largest cannon in the world.
Kanak Vrindavan - Not so old but definitely an exquisitely land scaped gardens with beautifully carved temple in beige stone, which is a vast complex with terrace sites all around and intricately carved marble columns and lattices. Located in the foothills of Nahargarh hills on the way towards Amer, this complex is a popular spot for picnic and film shoots.
Albert Hall - Situated in the middle of the Ram Niwas garden, as a centre attraction was the exquisitely built structure of Albert Hall, which was designed by sir Swinton Jacob, a British architect who designed many palaces in Rajasthan. Combining the elements of English and north Indian architecture known as the pride of the New Jaipur opened in 1887 AD, it is a very well maintained and impressive building displaying a rich collection of Art- de- fact like paintings, carpet, ivory, stone and metal sculptures and colourful crystal works etc.
Statue Circle - Statue Circle forms a major landmark of Jaipur. It is situated on a busy crossing of the city. Statue Circle has got its name from the statue, which it portrays. Statue Circle comprises the statue of King Sawai Jai Singh, the founder of Jaipur.